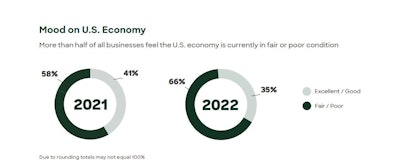 The recently released annual study, Umpqua Bank's 2022 Business Barometer Report, shows contractors are shifting their business practices to better deal with future economic challenges. 
According to the report, concern over inflation, which ranks as the overall top concern of construction companies, is driving a mixed outlook for the industry. Nearly 5 in 10 construction companies surveyed as part of Umpqua's Bank's 2022 Business Barometer, a nationwide study of small and middle market companies, expect conditions to worsen over the next year. More than 8 in 10 expect their prices to increase, with 51% also anticipating a corresponding spike in revenue.
Workforce shortages are clearly still an issue, as well. More than 7 in 10 surveyed companies are having difficulty finding qualified employees and supply chain disruption continues to pose a significant challenge. Only half of construction companies surveyed say they've been able to purchase the goods in a timely manner needed to run their businesses.
The report also states that businesses remain resilient and that leaders' feelings about the overall economy don't equate to reduced optimism about their own business prospects ahead. Of those surveyed, 52% expect revenue to grow in the year ahead and 32% expect it to stay stable, while 13% anticipate a revenue decrease. The breakdown was similar in terms of profitability and stable in comparison to the previous year.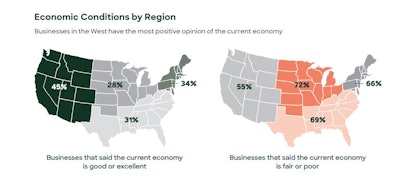 Shift in Strategy
In response to challenges, 78% of construction leaders surveyed said they are likely to make significant changes to their pricing models, and 54% are likely to make investments in digitization to become more efficient.
Compared with other sectors, construction leaders are also more focused on finding new suppliers (62%) or strengthening relationships with current suppliers (53%) as they navigate ongoing supply chain disruption.
"The economy poses significant challenges to the construction industry, as firms navigate the more recent impact of inflation, supply chain problems, and workforce disruption," said Richard Cabrera, Umpqua's head of middle market banking. "Leaders are taking strong steps to navigate these challenges, and those that remain focused on investing in improvements and efficiencies will be positioned better for the future no matter the direction of the economy."

A solid percentage of construction leaders have other strategic moves in mind, including automating more repetitive tasks (63%), making significant changes to products or services (45%), increasing their real estate footprint (41%), and financing expansion of their business (23%).
Overall, only 34% of businesses rated economic conditions in the United States as good or excellent, down from 41% last year. And the ranks of those rating it as poor increased from 18% to 34%. The study also shows: 
59% of construction companies cite a lack of qualified candidates with right skills as their top staffing challenge.
Rising interest rates and uncertainty related to COVID-19 or continued outbreaks are also cited frequently, with nearly four in 10 ranking both as top-three challenges.
In response to cybersecurity concerns, 49% are likely to invest in financial tools to protect their businesses payment systems.
Read the full report here.