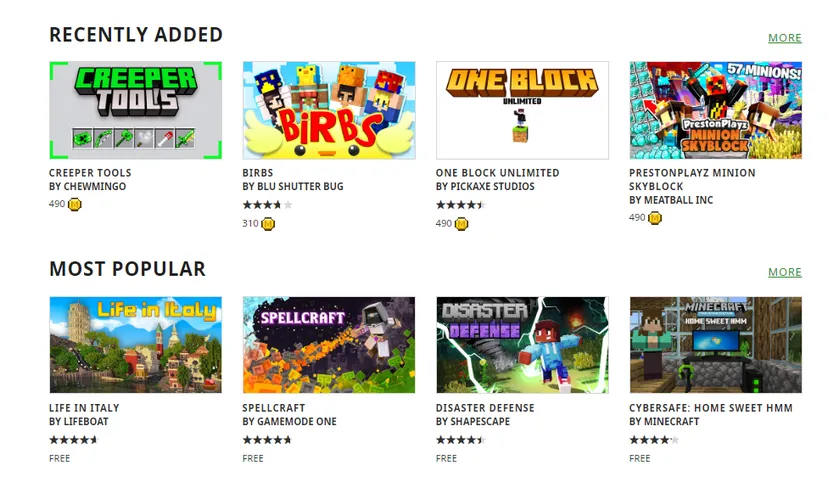 Microsoft-owned Mojang is banning the use of blockchain technology and Non-Fungible Tokens (NFTs) inside the Minecraft client and any affiliated server applications. It's a hard stance against the technology that will prevent third-party operators from creating Minecraft NFTs or profiting off of tokens that can grant access to exclusive servers.
In a blog post, the company stated that the use of NFTs violates the spirit of the Minecraft usage guidelines. Since said guidelines do permit server owners to charge for access, it had to clarify why using blockchain-linked tokens as access were not permitted. "We have these rules to ensure that Minecraft remains a community where everyone has access to the same content," the company wrote.
"NFTs…can create models of scarcity and exclusion that conflict with our Guidelines and the spirit of Minecraft."
So not only is blockchain token implementation banned, but any other Minecraft NFTs used for world files or skin packs are banned as well. The company has also banned the practice of allowing players to earn NFTs through activities performed on a server, or earning Minecraft NFTs for activity outside of the game.
"Each of these uses of NFTs and other blockchain technologies creates digital ownership based on scarcity and exclusion, which does not align with Minecraft values of creative inclusion and playing together," the company explained. It added that the use of the technology "creates a scenario of the haves and the have-nots." 
TL;DR:
"To ensure that Minecraft players have a safe and inclusive experience, blockchain technologies are not permitted to be integrated inside our Minecraft client and server applications nor may they be utilized to create NFTs associated with any in-game content…"

— Minecraft (@Minecraft) July 20, 2022
It directly acknowledged the speculative pricing and investment mentality that have either dogged the technology since its creation, or have been touted as a core feature, depending on who you ask.
Mojang also expressed concern over the reliability of third-party NFTs and the risks to players who buy them. Some of those risks include the possibility of fraud.
Will Mojang ever allow NFTs in Minecraft?
Short answer: maybe. There are two lines in Mojang's blog that indicate the door is still partly open for the technology to make a return.
First, the company states that it recognizes "that creation inside our game has intrisic value, and we strive to provide a marketplace where those values can be recognized." Mojang and parent company Microsoft currently allow players to sell in-game creations through the Minecraft Marketplace. As of 2021, modders have made a combined total of $350 million through the centralized system.
Second, there's a line explicitly saying that Mojang is open to the possibilities of blockchain technology in the future. "We will also be paying close attention to how blockchain technology evolves over time to ensure that the above principles are withheld and determine whether it will allow for more secure experiences or other practical and inclusive applications in gaming."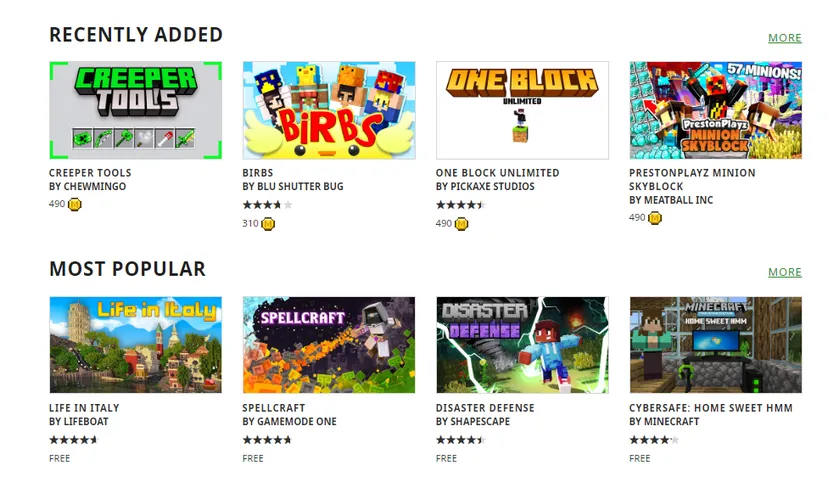 But the company also clarified that it has "no plans" to implement blockchain technology into Minecraft at this moment. Given that the game (which might also be considered a "platform" at this point) is very popular with younger players, any future implementation of the technology would probably not take advantage of its speculative properties.
It probably isn't a good idea to let children and teenagers effectively gamble on cryptocurrency.
Microsoft has been publicly hemming and hawing about how much it wants to jump into the blockchain lagoon. In 2021, the company's director of digital transformation, blockchain and cloud supply chain York Rhodes said that the company's told Blockworks that major brands embracing NFTs would drive adoption of the technology.
In the same year, Microsoft Gaming CEO Phil Spencer expressed wariness over "exploitative" NFT technology. 
A blow to the idea of web3

Mojang's extensive breakdown of why it's banning NFTs and blockchain tech is one of the loudest rebukes of the technology from a major game developer. While other publishers like Square Enix and EA (briefly) have expressed positivity about using NFTs to let players make money off in-game assets, Mojang's rebuke directly tackles developer concerns about artificial scarcity, inequality, and fraud.
Interestingly, there's no mention of the huge environmental impact of carbon emissions driven by proof-of-work-minted NFTs.
It's also notable that the Minecraft studio is pushing back on the technology, because Minecraft and Minecraft-like games have been at the center of many pitches for web3 and the metaverse. Its community of in-game creators, combined with shared virtual worlds and brand crossovers have been part of many pitches we've heard about the technology in the last few months.
But if NFT advocates are sincere about the tech's use as a means for people to make money off their labor in Minecraft (or to transfer digital goods between virtual worlds), they need to reckon with the fact that the company is letting creators make that money right now with nary a blockchain in sight. 
It's another instance of blockchain technology not being the optimal solution for the very problems it's intended to solve.